Launch

Your Medical Career
Get started with the process of becoming a medical scribe today with Scribekick. Scribekick offers you the opportunity to grow as a future health care professional through our paid training program working with HPI and SOAP notes; skills in EMR usage, and building rapport with your provider. Browse our open positions below or contact us if you have questions about careers with Scribekick.
Join Our Scribe

Tribe
Why should you work for Scribekick?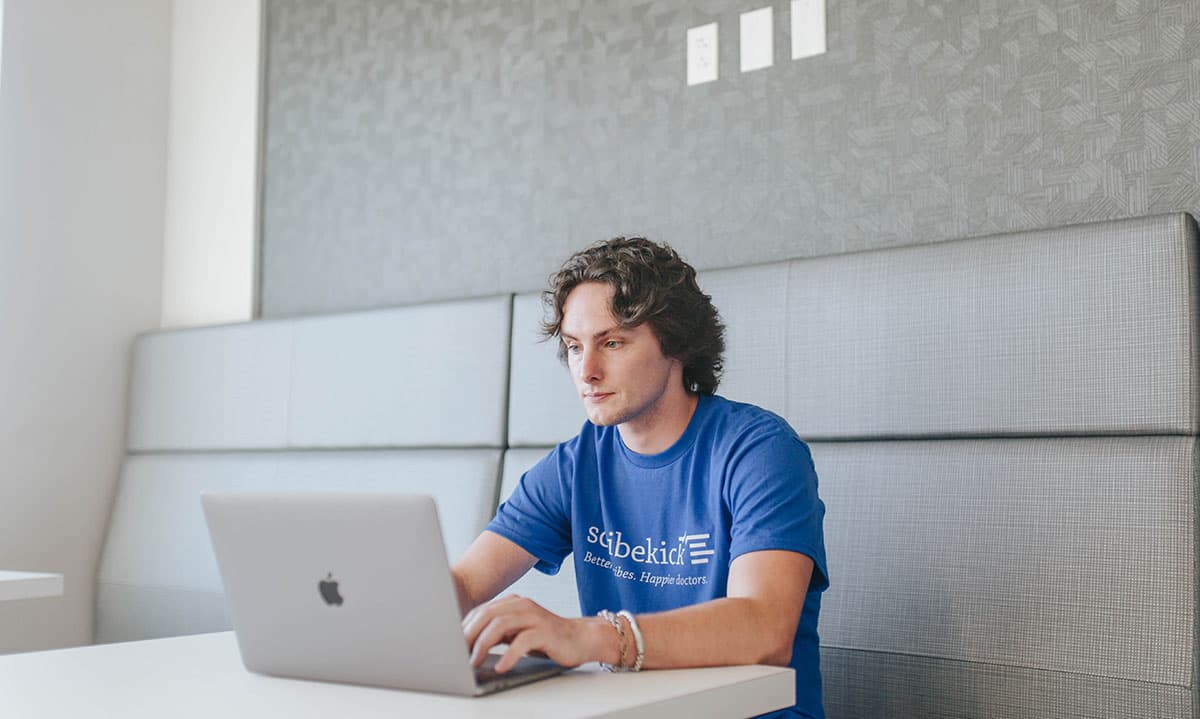 Joining our Scribekick team offers you the opportunity to have:
A chance to become an expert in scribing through our paid training and shadowing program
The ability to further your career in healthcare
Multiple scribe speciality opportunities to choose from
Growth in our company and your role, we are rapidly expanding and hiring
Development and continuing education units to develop your knowledge over time
An experience of a lifetime in helping providers and patients get the best care possible
A great way to use your "gap year" between college and what's next, gap year applicants are always encouraged
Competive pay, we match all competitors salaries
Don't see a job for you? Signup to get alerts when we post new jobs.
Medical scribes are the right-hand men and women for doctors who want to spend more time with patients and less time tied to the computer. 
As a scribe, you will be placed with your assigned physician to aid them as they carry out patient visits.
While your physician examines and talks to the patient, you chart directly into the electronic medical record (EMR), in real time.
Thanks to your work, the doctors are able to spend more time being doctors, patients receive better care, and you gain invaluable first-hand experience in the medical field.
Scribes receive rigorous training in medical terminology and procedure. Through the training process, we get to know you and your style, and we go to great lengths to match you with the right physician and practice.
Because we do not work in emergency departments (EDs), you will be able to work regular, weekday hours. You will also work directly with only one physician, resulting in a much closer relationship, powerful letters of recommendation, and ongoing mentorship.
The happiness of our scribes matters. We believe that scribes who feel valued perform better.
Our scribes give us the highest ratings on Glassdoor, citing our people, our training process, and growth opportunities as some of the best parts of working with us.
We match or beat competitor's salaries,

guaranteed.
We want to continue bringing in top talent, which is why we will match any offer you receive from a competing service when you start with us.
We know that job satisfaction isn't all about money, but at Scribekick, we want you to have both.
Working at Scribekick
We look for candidates that have distinguished themselves in their studies and have a sincere interest in healthcare.
Ample typing speed and computer proficiency are mandatory, as the job requires entering medical information into electronic medical records. Ideal candidates will have the ability to work with our doctors for at least a full year on a full-time basis.
Part­-time opportunities are available on occasion.
Browse and apply to any of our open positions above, or click here to reach out to us if you have any questions about careers at Scribekick.